Thanksgiving Happenings in Long Beach
Give thanks in Long Beach!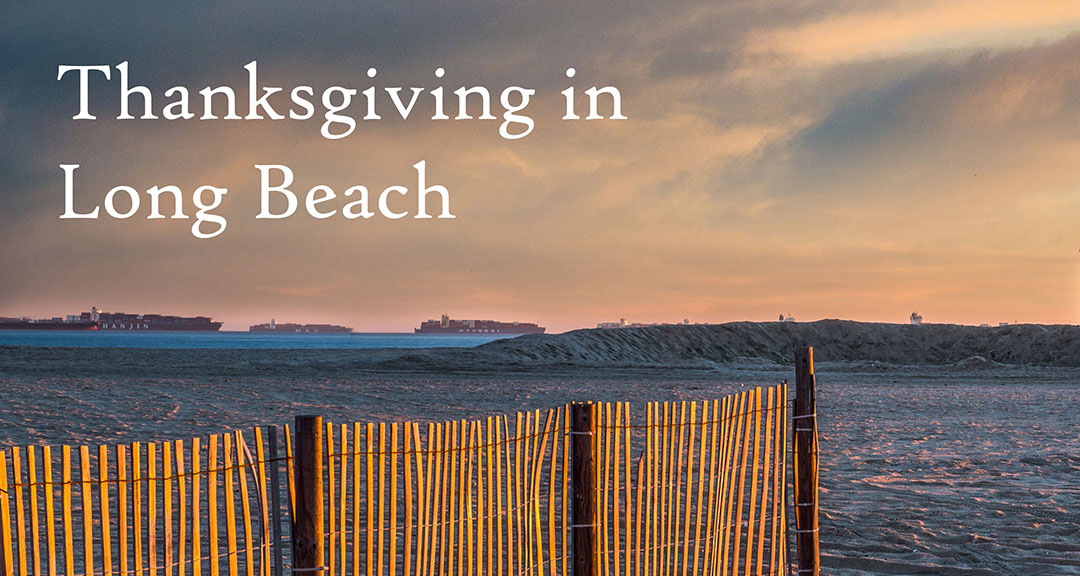 James Republic To-Go Thanksgiving Dinner
Order by November 20
Take home a James Republic farm-to-table Thanksgiving dinner to share with great friends and family!
Friendsgiving at The Social List
November 16th - November 26th
Enjoy our Thanksgiving Plate Special including: oven roasted turkey, almond stuffing and gravy, garlicky smashed potatoes, English peas, and house-made cranberry sauce.
Before & After Thanksgiving Dinner at Michael's on Naples
November 22 & 24
We're offering a special limited-time menu in celebration of Thanksgiving. Skip the leftovers and treat your family to a pre-or-post holiday dinner to celebrate the holiday season.
November 23
3,000+ runners & walkers are expected to start their Thanksgiving morning with a 5K/10K for the Long Beach Turkey Trot.
Thanksgiving Lunch at Aquarium of the Pacific
November 23
Take the stress out of Thanksgiving, and treat yourself and your family to a day at the Aquarium of the Pacific. Come gobble gobble with the sea otters and the entire Aquarium family.
Thanksgiving Aboard the Queen Mary
November 23
Enjoy first-class dining aboard the world-famous Queen Mary and celebrate Thanksgiving in style. Book your reservations NOW for Sir Winston's, Chelsea Chowder House (walk-ins welcome) or our award-winning Brunch - before our tables are full!
November 23
Guests are set to gobble up Fuego's four-course Thanksgiving feast featuring a delicious, traditional holiday meal with all the trimmings at Hotel Maya's Fuego.
Thanksgiving at Parkers' Lighthouse
November 23
We're offering a 3-course Prix Fixe menu that will include a traditional Turkey dinner complete with all the trimmings. Other entrée options include steaks, chops and a selection of our mouth-watering signature seafood dishes.
Thanksgiving Dinner at The Sky Room
November 23
Let us do the cooking this year and enjoy a first-class Thanksgiving dinner at The Sky Room. Chef Juan Carlos Olvera artfully prepares a nectarous three-course dinner featuring our modern take on traditional Thanksgiving fare.
Thanksgiving Day Champagne Buffet at The Reef
November 23
This Thanksgiving, let us do the cooking! Join us for a delicious Thanksgiving Day Champagne Buffet and enjoy your time with friends and family!
Thanksgiving Prix Fixe Dinner at Boathouse on the Bay
November 23
No time or energy to cook a big Thanksgiving Dinner? Bring your family to the Boathouse for our annual Thanksgiving 3-Course Prix Fixe Menu.
Traditional Thanksgiving Champagne Brunch & Dinner Buffet at Marriott
November 23
This year, celebrate Thanksgiving without the hassle of cooking and cleaning by dining with us the Terrace Grille Restaurant for brunch and/or dinner.
November 23
Thanksgiving at 555 is always a special day. Celebrate the holiday and indulge in a traditional meal.
Thanksgiving in Spain at Sevilla
November 23
Celebrate Thanksgiving in Spain with your family and friends this year! Join us at Sevilla as we serve our delicious 4-Course Prix Fixe Thanksgiving Menu.
Blog Author
More Like This
Tag Cloud