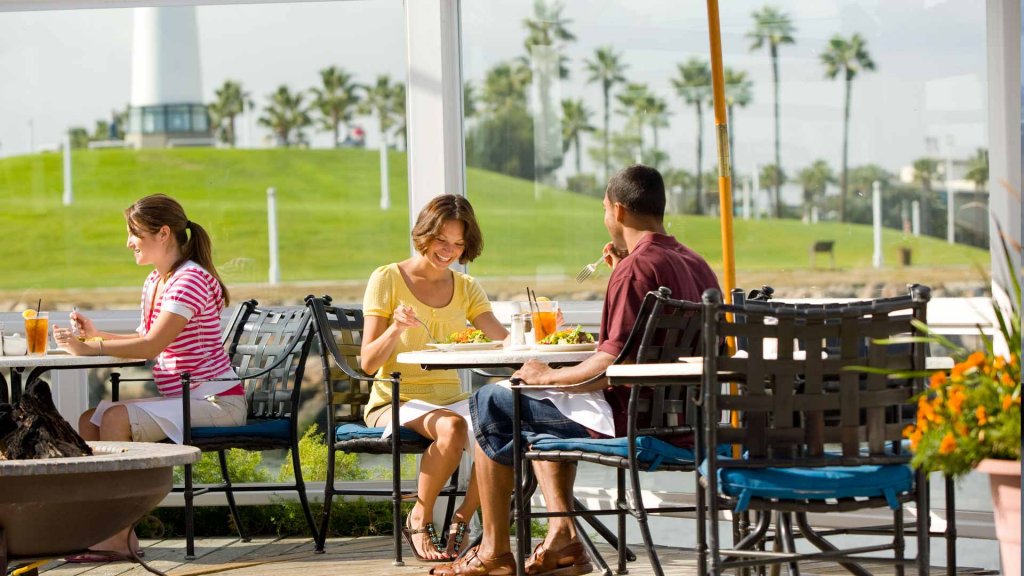 Dine
Long Beach doesn't just sizzle, it really cooks. For food lovers, exploring the local flavors of the city is what a vacation is all about. Enjoy signature bites with an array local cuisine sure to satisfy every taste bud. With international flair, Long Beach offers sustainable seafood, Mediterranean, Italian, Japanese, Mexican and Indian cuisine to name a few. From distinct gastro pubs and bars, to sidewalk cafes, local neighborhood restaurants and romantic hideaways, Long Beach is a foodie's paradise.
Filter Directory Results
Results 1 - 12 of 106
555 East Steakhouse
Learn More
Partner Details
For over a decade 555 East has provided superior prime beef to the choosiest beef lovers in the Long Beach area. And as good as our prime cut is, we believe to truly enjoy your meal you need to have the perfect wine choice. No wonder our wine cellar is award winning, with wines to please the most discriminating palette. Now, combine great food and drink with genuine wood and marble surroundings, and you have the ideal steakhouse. 555 East - choice cuts, an award winning wine cellar, and a traditional steakhouse atmosphere combine to give you the best steakhouse experience in Southern California.
555 East Ocean Boulevard
Long Beach, CA 90802
Contact Name: Capri Moreno
Contact Title: Banquet Coordinator
Phone: (562) 437-0626
Fax: (562)435-9246

Website: www.555east.com
Email: 555events@kingsseafood.com

Acapulco Mexican Restaurant Y Cantina - San Pedro
Learn More
Partner Details
Waterfront restaurant in San Pedro. Longtime cantina chain with lively vibe offering Mexican eats, Sunday brunch buffet & margaritas.
750 Sampson Way, Berth 83
San Pedro, CA 90731
Contact Name: Patti Adams
Contact Title: Local Store Marketing Supervisor
Phone: 310-548-6800

Website: www.acapulcorestaurants.com
Acapulco Mexican Restaurant Y Cantina
Learn More
Partner Details
Acapulco is your fun, festive, casual neighborhood Mexican restaurant. A relaxed dining experience, with warm gracious service where every guest is made to feel welcome and at home. Generous portions of California-style Mexican food, from sizzling fajitas and fish tacos to savory enchiladas.
Agaves Kitchen & Tequila
Learn More
Partner Details
Agaves kitchen | tequila is Long Beach premier Mexican Bistro. Modern Mexican cuisine featuring regional dishes with a twist, bold flavors, light fusion and huge tequila & Mescal selection in an amazing set up with a strong modern urban feel. Live entertainment and lounge offered as well, happy hour and space for private events, see you soon and more tequila! Great nightlife spot, downtown.
200 Pine Ave., Ste A
Long Beach, CA 90802
Contact Name: Miguel Baeza
Contact Title: Co-Owner
Phone: (562) 435-7700
Fax: (562) 435-9600

Website: www.agavesbar.com
Email: Miguel@agavesbar.com

Alegria Cocina Latina
Learn More
Partner Details
Come to Alegria for a fascinating tour of Spanish and Latin American Cuisine. Chef Walter Cotta has created a unique and select menu just for you. The foods of Spain and Latin America are rich in flavor, reminiscent of distinctive herbs and spices, which, when combined created many delightful dishes. We use only the purest ingredients with the highest quality of produce, fresh vegetables, choice meats and fresh seafood, delivered daily. Every item on the menu has been specially selected for its flavor, with every detail, from portion size to table side presentation.
Ballast Point Long Beach~ Tasting Room & Kitchen
Learn More
Beachwood BBQ and Brewing
Learn More
Partner Details
Beachwood BBQ and Brewing teeters somewhere between tradition and innovation, offering tasty 'que and fantastic brews. The approach here is low and slow- all the meats are slow smoked and dry rubbed, succulently flavored to allow the true meat flavor to stand on its own. You won't find Coors or Heineken at Beachwood's bar. In fact, the beer line up features a selection of hand crafted beers brewed on premise and 24 rotating microbrews, providing the best craft beer selection in Long Beach.
Beer Belly
Learn More
Berlin Bistro
Learn More
Partner Details
Berlin Bistro, perfectly located in the bohemian heart of the East Village Arts District, Berlin serves up a unique blend of healthy cuisine and bold brews in a contemporary bistro setting. Here, against the backdrop of reclaimed brick and wood, you'll feed your hunger for great food, great service and great conversation.
Bo Beau Kitchen + Roof Tap
Learn More
Partner Details
Located in the Heart of downtown Long Beach - 144 Pine Avenue, Long Beach, CA 90802 Will be serving Dinner nightly at 4:30 pm Social Time: Will be Monday – Friday 4:30pm - 6pm Menu Selection - Cal-French Comfort Food with Global Influences The food reflects classic standards, delicious flavors, with great value, excellent ambiance, and stellar service. Accepting reservations, but not required Ambience - Bohemian-chic meets industrial elegance in this casual eatery with roof top beer garden Spirits - Full Service, featuring 50 taps, 100+ vodkas, martinis, crafted cocktails and Eclectic wine selection Promos and Other Payments - Cohn Group Gift cards and certificates Online - www.bobeaurooftap.com - www.cohnrestaurants.com - www.facebook.com/bobeaurooftap
144 Pine Avenue
Long Beach, CA 90802
Contact Name: Tracey Amernick
Contact Title: Director of Special Events & Group Sales
Phone: (562) 983-0056

Website: www.dinecrg.com
Email: Michelle@dinecrg.com

Boathouse On The Bay
Learn More
Partner Details
Welcome to The Boathouse on the Bay, a Long Beach restaurant offering spectacular water views, amazing sunsets and an outstanding Long Beach dining experience. Seafood - Prime Steaks - Oyster Bar - Cocktails The Boathouse On The Bay prides itself on culinary creativity and a healthy dining experience for all guests. We hold our kitchen to the highest standards of excellence so that our guests can enjoy prime steaks and seafood from only the finest sources along with the freshest sushi and oysters. Unique specials and innovative seasonal menu options are served daily.
Brouwerij West
Learn More
Partner Details
Located across the harbor in San Pedro, Brouwerij (pronounced brewery) West is the area's newest craft beer destination. Producing artisanal Belgian-inspired beers and more, the brewery (opened in February 2016) is housed in a WWII-era naval warehouse showcasing the community's rich coastal history. With nearly 8,000 square feet of visitor-serving space indoors and 17,000 square feet outdoors, the site has become one of the LA metro area's premier event venues. Open Wednesday through Sunday, the family- and dog-friendly Tasting Room features a variety of carefully curated gourmet food trucks from which to order food to pair perfectly with the beers. Contact Name: Britta Wichers Contact Title: Event Producer Phone Number: (310) 833-9330 Email: producer@brouwerijwest.com