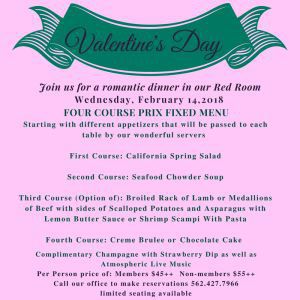 ]
General , Holiday
Valentine's Day The Long Beach Petroleum Club
Date: Wednesday, February 14 2018
Join us for a romantic dinner in our Red Room. Four Course Prix Fixed Menu.
Starting with different appetizers that will be passed to each table by our wonderful servers.
First Course: California Spring Salad
Second Course: Seafood Chowder Soup
Third Course (Option of): Broiled Rack of Lamb or Medallion of Beef with sides of Scalloped Potatoes and Saparagus with Lemon Butter Sauce or Shrimp Scampi With Pasta.
Fourth Course: Creme Brulee or Chocolate Cake
Complimentary Champagne with Strawberry Dip as well as Atmospheric Live Music.
Per Person Price of: Members 445++ Non-members $55++
Call our office to make reservations (562) 427-7966
Limited Seating is available.
Call:
(562) 427-7966

Location:
Long Beach Petroleum Club

Address:
3636 Linden Avenue
Long Beach, California 90807
Add To Itinerary