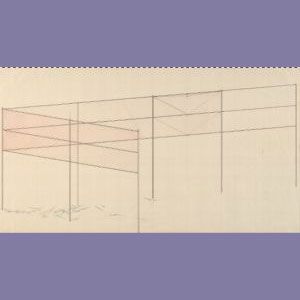 ]
Arts & Culture/Theater , General
Robert Irwin First Museum Exhibition
Next Upcoming Date:
Join us for the FREE, public opening reception of ROBERT IRWIN: SITE DETERMINED! Enjoy appetizers and beverages on the museum plaza and come experience this new exciting exhibition.
ROBERT IRWIN: SITE DETERMINED is the first museum exhibition dedicated to the creative process of one of the most significant American artists of the postwar generation. The visitor is invited to explore four decades of Irwin's outdoor environmental projects through rarely exhibited drawings and architectural models. Site-determined art, Irwin has explained, "draws all of its cues (reasons for being) from its surroundings." This exhibition promises insights into Irwin's working process as he developed aesthetic responses to such cues, including his Window Wall on the CSULB campus, Central Garden at the J. Paul Getty Center in Los Angeles to his most recent site-determined work, Untitled (dawn to dusk) in Marfa, Texas.
This exhibition is organized by the University Art Museum, CSULB, and is curated by Dr. Matthew Simms, Professor of Art History, CSULB.
RSVP on Eventbrite: https://www.eventbrite.com/e/robert-irwin-site-determined-opening-reception-tickets-41971355454
More information: https://www.csulb.edu/university-art-museum/exhibitions
After the reception, this exhibition will be open from January 29 – April 15, 2018
HOURS
Sunday - Thursday: 12pm − 5pm
Wednesday: 12pm − 8pm
Friday - Saturday: Closed
DIRECTIONS
The University Art Museum is located on the campus of California State University, Long Beach.
University Art Museum, CSULB
1250 Bellflower Boulevard
Long Beach, CA 90840
562.985.5761
PARKING
You may purchase parking permits for $8. A license plate number is required to purchase a permit at kiosks located in appropriate lots. Limited University Art Museum (daily permit) and disabled parking spaces are available in Lot 15. Please refer to our website for additional information.
PHOTO CREDIT
Robert Irwin
"Two Running Violet V Forms" (1982)
Ink and pencil, 24 x 46 in
Stuart Collection Records, Special Collections & Archives, UC San Diego
Photograph: Philipp Scholz Rittermann
© 2018 Robert Irwin/Artists Rights Society (ARS), New York.
Call:
(562) 985-5761

Location:
The University ARt Museum

Time:
1:19 PM to 1:19 PM

Address:
1250 N. Bellflower Blvd.
Long Beach, California 90840
Add To Itinerary