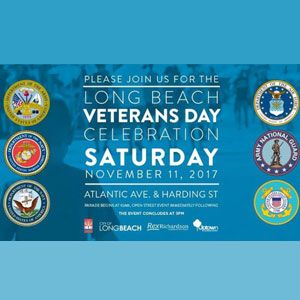 ]
General , Holiday
Long Beach Veterans Celebration
Date: Saturday, November 11 2017
This year's Vets Fest will also hold a ribbon cutting ceremony in celebration of the new Veterans Valor Plaza at Houghton Park, which will include veterans' services, various resources and a Career Expo.
The Veterans Day Parade will step off at 10:00AM along with the opening of the street fair and Vets Fest which will continue until 3:00PM.
See our website for more information.
Location:
North Long Beach

Time:
10:00 AM to 3:00 PM

Address:
Atlantic Ave at Michelle Obama Library to Harding
Long Beach, California
Visit Website
Add To Itinerary