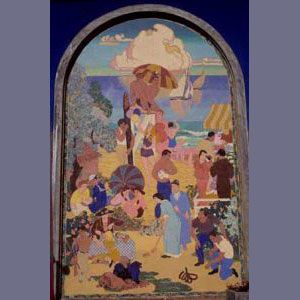 ]
General
Long Beach Heritage Downtown Walking Tour
Date: Saturday, May 20 2017
Join Long Beach Heritage, Saturday, May 20, 2017, for a Walking Tour of Downtown Long Beach. Long Beach was recently voted the best walkable, large city in Southern California by Walk Score, a company that rates neighbourhood throughout the United States.
Long Beach is filled with historic gems. From modern architecture to the Art Deco style, it's all here and waiting to be discovered.
The Walking Tour Program fosters preservation advocacy and education throughout Long Beach.
A few of the buildings included on the tour are the WPA Mural-Recreation in Long Beach, Insurance Exchange Building, The Breakers, The Willmore Building, Farmers & Merchants Bank, First National Bank and the Security Bank Building.
Tours are held the third Saturday of each month. Should it be raining, please call 562-493-7019 to reschedule.
Meet at the WPA Mural, 3rd and The Promenade. Cost is $10.00. Tickets can be purchased in advance through PayPal at www.lbheritage.org. Tickets will be distributed at meeting site.
Call:
(562) 493-7019

Location:
Downtown Long Beach

Time:
9:30 AM to 12:00 PM

Address:
3rd and the Promenade
Long Beach, California 90802
Visit Website
Add To Itinerary