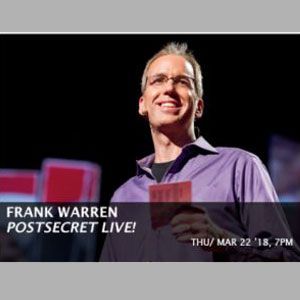 ]
General
Frank Warren Postsecret Live!
Date: Thursday, March 22 2018
PostSecret blog creator Frank Warren introduced the world to a collection of highly personal and artfully decorated postcards mailed anonymously from around the world, exposing the soulful secrets we never voice. Since PostSecret's inception, Warren has received over 1,000,000 anonymous secrets on homemade postcards. Come be a part of this wildly popular, insightful, moving and interactive show, and experience the PostSecret phenomenon.
Call:
(562) 985-7000

Location:
Carpenter Performing Arts Center

Time:
7:00 PM to 9:00 PM

Address:
6200 Atherton St.
Long Beach, California 90815
Visit Website
Add To Itinerary