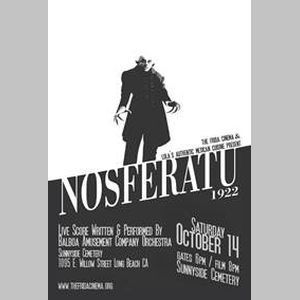 ]
Arts & Culture/Theater , General
Cemetery Screening Of Bram Stoker's Dracula
Date: Saturday, October 14 2017
The popularity of the film series in October, organizers—made up of nonprofit The Frida Cinema, Sunnyside and the series' title sponsor, Lola's Mexican Cuisine—were able to organize a special screening of Nosferatu, to take place Saturday, October 14.
The silent classic, an unauthorized adaptation of Bram Stoker's Dracula directed by F.W. Murnau, went nearly extinct when Stoker's estate ordered all prints of the film destroyed, organizers noted. It will be screened against a live original score by Balboa Amusement Company Orchestra, assembled by local singer-songwriters Ellen Warkentine and Alyssandra Nighswonger.
Together, the film and orchestra will recreate the series' first-ever screening at Sunnyside, which was held October 10, 2013.
"The smash success of this event kicked off three years of movies at Sunnyside, and after a brief hiatus, we are so glad to return with the unique evening of classic silent horror and gorgeous sounds by local musicians that launched 'Lola's Outdoor Retro Cinema' nights at Sunnyside!" organizers stated.
While only one film is scheduled to screen this year, the cemetery is open to continue the series if this event does well, according to The Frida Cinema's Logan Crow, executive director of screenings and events programming.
Tickets are $15 plus a service fee if purchased online or $15 cash at the door, however, purchase a ticket by Friday, September 22 and pay a discounted price of $12. The event is free for Frida Cinema card-carrying members.
Proceeds from the tickets will support The Frida Cinema and Sunnyside Cemetery, which is currently raising money through the crowdfunding site GoFundMe to help keep the site open to the public.
Guests can bring low-back chairs, blankets, food and picnic baskets. Food trucks will also be on site.
Sunnyside Cemetery is located at 1095 East Willow Street.
Location:
Sunnyside Cemetery

Address:
1095 E. Willow Street
Long Beach, California 90806
Visit Website
Add To Itinerary