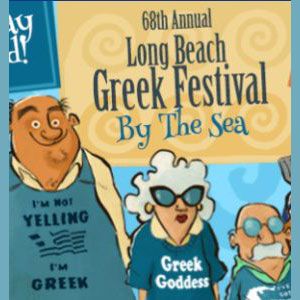 ]
Fairs & Festivals , General
68th Annual Long Beach Greek Festival
Date: Saturday, September 2 2017 to Sunday, September 3 2017
The Annual Assumption Greek Festival by the Sea
Labor Day Weekend.
The Assumption Greek Orthodox Church has been in Long Beach for over 64 years. Our Annual Greek Festival by the Sea and Cultural event is going on its 64th year and is a very special occasion for us to be able to share our Greek Heritage with our community.
We love the City of Long Beach and every year we are excited to put on this wonderful event. We would like to invite everybody to come down and share this special weekend with us. Our members work very hard to bring you a fun filled weekend full of Authentic Greek Food, Homemade Greek Sweets, Greek Dancing, Greek Music and most important our beautiful Church.
Call:
(562) 494-8929

Location:
Assumption of the Blessed Virgin Mary Greek Orthodox Church

Address:
5761 E. Colorado Street
Long Beach, California 90814
Visit Website
Add To Itinerary