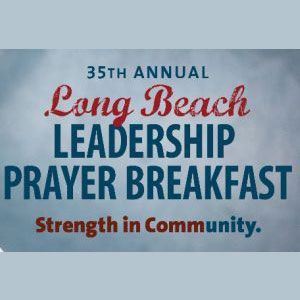 ]
General
35th Annual Long Beach Leadership Prayer Breakfast
Date: Friday, September 15 2017
35th Annual Long Beach Leadership Prayer Breakfast, Friday, September 15, from 7 a.m. to 9 a.m.
The Long Beach Leadership Prayer Breakfast is an annual city-wide event hosted by the Long Beach Rescue Mission, bringing together our community leaders representing civic, business, educational, non-profit and church endeavors for a time of refreshing and renewal.
There will be a delicious breakfast, music, special presentations and, of course, powerful prayers! Be sure to register early for this uplifting experience. We also encourage you to support the prayer breakfast by becoming a sponsor.
Special Guest Speaker/Musician: Roddy Chong, renowned violinist who tours with Celine Dion and Shania Twain and the Trans-Siberian Orchestra
We look forward to seeing you there!
For information and registration: www.prayerlb.com
Location:
Hyatt Regency Long Beach

Time:
7:00 AM to 9:00 AM

Address:
200 S. Pine Avenue
Long Beach , California 90802
Visit Website
Add To Itinerary