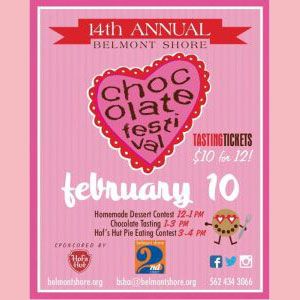 ]
Fairs & Festivals , General
14th Belmont Shore Chocolate Festival
Date: Saturday, February 10 2018
The 14th Annual Belmont Shore Chocolate Festival! Belmont Shore Businesses will be offering an array of chocolate treats and other sweets for all chocolate lovers along with other sweets to satisfy the whole family. With over 25 restaurants participating, everyone will be able to find something to satisfy that sweet tooth!
There is no entry fee for the event, only the cost of tickets used to purchase the dessert items. Twelve tickets for $10 Tickets will be sold beginning at 11am on day of the event in front of Chase Bank (5200 E. 2nd).
Homemade Chocolate Dessert Contest 12p to 1pm
Chocolate Festival 1:00pm – 3:00pm or until we run out
Hof's Hut Chocolate Pie eating contest 3pm to 4pm
See website for more details on this event.
Location:
Belmont Shore

Time:
12:00 PM to 4:00 PM
Visit Website
Add To Itinerary