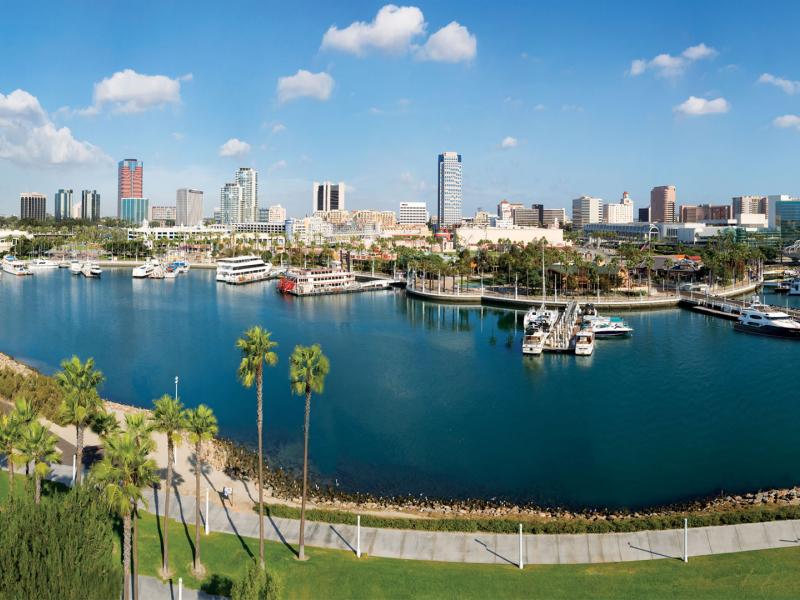 Meeting Planners - PlanaVacationDay
Even #MeetingProfs should be celebrating #PlanforVacation Day this year!
Too many vacation days go unused every year in the U.S.; don't let 2017 be another year you let slip by without a vacation. After you've finished your convention, consider using a few of those vacation days you've been hoarding for years and stay in the #BeachwithBenefits a couple more days. Honestly, if you've just flown into Long Beach for a weekend convention – you're going to need a few extra days to truly discover "the International City." Here are a few ideas to help you #PlanforVacation Day after you #MeetinLB:
Visit The Legendary Queen Mary: If your conference wasn't already onboard the Queen Mary, add our legendary cruise ship to your first vacation day itinerary. Get an up close and personal look at the Queen Mary with an exciting and informative guided tour. From the ship's groundbreaking construction and royal launch as the most luxurious and technologically advanced ocean liner at the time, to her duty as a troopship during WWII, to her golden days of the 1950s, to her earning the nickname, the "haunted ship," the Queen Mary's history is full of action, adventure, romance and paranormal activity.
Visit the Aquarium of the Pacific: Make it an unforgettable trip to the aquarium by booking a behind the scenes tour, animal encounter, private tour, or even a dive immersion! Schedule a behind the scenes tour in advance and discover the inner workings of the aquarium's 50 exhibits. Get up close and personal with penguins, sea lions, sea otters or sharks with an animal encounter! Who can resist the chance to be in the exhibit with PENGUINS?! The most unique offer at the aquarium offers is a Dive Immersion experience for certified divers! Journey into the warm 350,000-gallon Tropical Reef Habitat and meet more than 600 tropical fish face-to-face for two and a half hours. Each year more than 1.5 million people visit the aquarium. The Aquarium of the Pacific has redefined the modern aquarium. Stick around after your special tour to give yourself some time to view (and photograph) the more than 11,000 animals on display. You won't regret it.
Visit Santa Catalina Island: Did you know that just 26 miles off the Long Beach coast sits a serene island getaway? That's right! You can board the Catalina Express and within the hour you'll be peacefully living on island time. Explore the oceanfront shops in Avalon, dine on local island cuisine, tour the island's vast interior to see wild buffalo and dramatic coastline vistas. Hike trails to hidden harbors and inlets or discover the crystal blue waters teeming with colorful fish by kayak, sailboat or snorkel. Book a Zip line Eco-Tour for the full aerial view of the island and surrounding waters. Honestly, if you have the time, a trip to Catalina should be a top priority!
Book a Whale, Dolphin, and Sea Life Cruise with Harbor Breeze: Harbor Breeze Cruises has provided seasonal whale watching cruises for the past 18 years. Their experienced captains offer a comprehensive narration throughout the cruise. During the Gray Whale season, (December – April) you'll learn about the characteristics of the Pacific Gray Whale and its annual migration from the Bering Sea in Alaska to Scammon's Lagoon in Baja California, Mexico. During the Blue Whale season, (May – November), you can expect to be educated on the Blue Whales' characteristics, and other interesting facts. Throughout the year along with Gray and Blue Whales you may also see Fin Whales, Humpback Whales, Minke Whales, Killer Whales (Orcas). Other wildlife frequently spotted include: Dolphins including Common, Bottlenose, Risso's, and Pacific White Sided. A whale watching cruise is truly an unforgettable experience when you #MeetinLB.
Experience Long Beach's Culture and Art Scene: If you haven't already noticed from the few murals around the convention center, Long Beach has a vibrant arts scene and lively culture. With four distinctive museums and two historic ranchos (Rancho Los Cerritos and Rancho Los Alamitos), Long Beach offers more than enough to fill a day with cultural activities. Powwow Street Art Festival has called Long Beach home for two summers, leaving behind more than 50 murals for you to discover as you explore the city.
Blog Author
More Like This
Tag Cloud