Celebrate NYE in Long Beach
Find the top events and celebrations for ringing in the New Year in Long Beach, CA!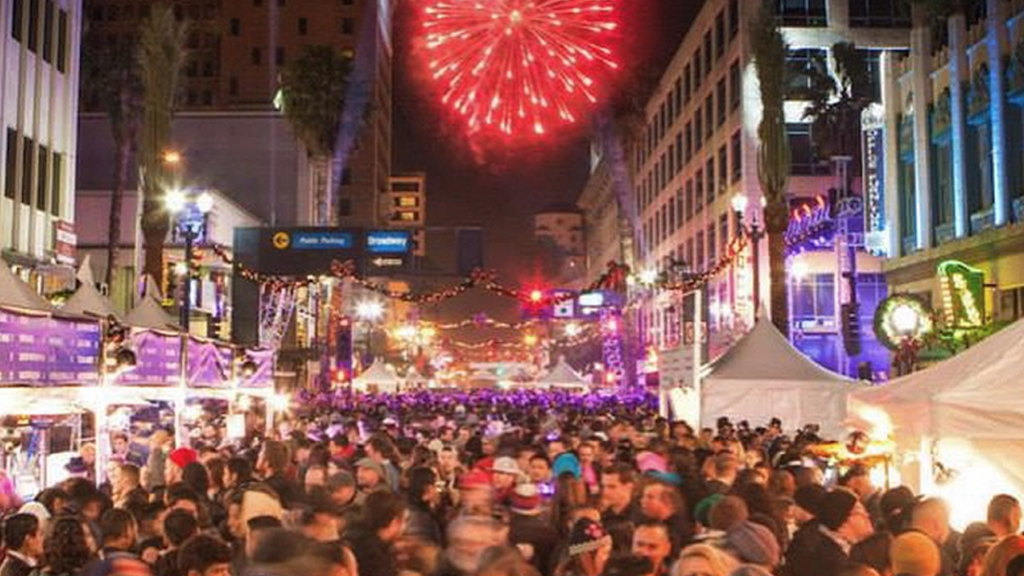 Image courtesy of the DLBA
It's New Year's Eve! Every year Long Beach offers tons of ways to bring in the New Year and this year is no different. If you are still looking for ways to celebrate the end of 2016, we've compiled a list of a few ideas but feel free to check out our events calendar for all others!
NYE at Sgt. Peppers: December 31
Clap-along, sing-along, and drink-along at Sgt. Pepper's Dueling Pianos this New Year's Eve. They will have NYE party favors and a complimentary champagne toast at midnight for every reservation. Click here.

Fuego Rings in the New Year: December 31
Fuego at Hotel Maya rings in the New Year with a delicious four-course dinner and party package on December 31. Partiers will enjoy an outstanding view of the fireworks from the Queen Mary at midnight. Click here.

NYE at Long Beach Marriott: December 31
Enjoy a gourmet dinner, and dance to the music of the Big Band Era of Tracy Wells & His 16 Piece Band with vocalist Ginger Berglund this NYE at Long Beach Marriott. Click here.

NYE at the Renaissance: December 31
Celebrate 2016 with the Renaissance! We are transforming our SIP Bar & Lounge into a nightclub filled with music, drinks, food and more. Click here.

NYE at Panorama at Holiday Inn: December 31
Toast the New Year in style and enjoy an unforgettable evening of great food, drinks and live entertainment. There's no shortage of entertainment at the Holiday Inn Long Beach Airport. Click here.

NYE at The Auld Dubliner: December 31
Celebrate Irish New Year at 4 p.m. and then continue into the evening and celebrate at midnight as well. There's no cover. Click here.

NYE at The Boathouse on the Bay: December 31
Boathouse will have East Coast and West Coast countdowns and will serve a four-course prix fixe menu for $90 per person starting at 4:30 p.m. Entrée choices included Miso-Glazed Chilean Sea Bass Tagine, Dry Aged New York Steak, North Australian Lobster and more. The Emperors provide live music starting at 8:30 p.m. Click here.

NYE at Brix at the Shore: December 31
Enjoy a three-course dinner with entrée choices of a Buffalo Style New York Steak, Lemon Beurre Blanc Shrimp over pasta, a pastrami egg roll and more. It's $45 per person. Click here.

NYE at Cielo Rooftop at the Sky Room: December 31
They have a package ($75) that includes an open bar, tacos and tapas, a DJ and the fireworks starting at 9:30 p.m. Entry tickets alone are $35. Click here.

NYE at Chianina: December 31
They will serve a special five-course prix fixe dinner with menu items including Kumamoto Oysters, Terrine of Hudson Valley Foie, Piedmontese Delmonico, Petite Prime Filet and Lobster and more. The dinner is $125 per person; a wine pairing is an additional $45. Click here.

NYE at Fuego at Hotel Maya: December 31
Fuego has a New Year's Eve Party and brunch on New Year's Day. The first seating on New Year's Eve is at 9 p.m. for a four-course dinner with entrée selections of Filet Mignon, Pan Roasted Pacific Sea Bass, Stuffed Maine Lobster Tail or Saffron Mushrooms. Dinner is $180 per person and includes Champagne all event, dancing, and guaranteed seating for the Queen Mary fireworks. Click here.

NYE at Gladstone's: December 31
Gladstone's will celebrate the New York New Year's Eve with the Big Apple Ball Drop at 9 p.m. The family-friendly evening will feature live music from 7 p.m. to 10:30 p.m. Click here.

NYE at Panxa: December 31
Panxa will celebrate its first year in operation along with the New Year with at three-course prix fixe meal for $75. Click here.

NYE at Legends: December 31
Legends invites everyone to "dress up and come to Legends for an evening of celebration and cheer." Click here.

NYE at Michael's on Naples: December 31
means a five-course prix fixe dinner with menu highlights such as Foie Gras hot and cold with watercress, Maine lobster ragu with homemade pasta, Grilled Lamb Loin and more. It's $125 per person with an optional wine pairing an additional $45. Click here.

And if you're in need of a safe way home, Long Beach transit will offer free rides starting at 5 p.m. on NYE. Buses will leave the Transit Gallery on First Street between Long Beach Boulevard as late as 2:35 a.m. New Year's morning. Click here for details.