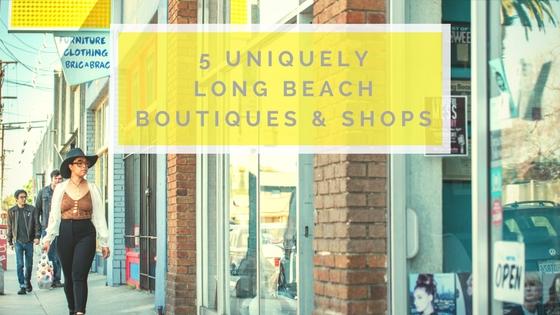 6 Uniquely Long Beach Boutiques and Shops
One-of-a-kind? Check. Whether you're looking for quirky, specialty, or hand-spun local, you're sure to score lovely finds in Long Beach. It often takes a little digging to unearth cool shopping experiences, so here's a hit list of where to go in our city to fill your shopping bag with thoughtful gifts, offbeat souvenirs, authentic crafts and rare treasures.
ANNEISE –
Find unique modern wearables in this small shop located in the East Village Arts District of Downtown Long Beach. From unique jewelry & fashionable accessories, you're sure to enjoy browsing this local treasure. Shop in-store only from 12-5pm Tuesday - Sunday.
Blue Windows –
This is where you will find that elusive gift for your MIL, your cousin's wedding shower, or your uncle, but mainly, for yourself. Blue Windows is located on 2nd Street in Belmont Shore and features perfectly curated jewelry (some from local artisans), clothing, stationary, kitchen & home accessories, and adorable baby items. Whether you're just looking for something small for a coworker or beautifully sentimental gift for a loved one, we know you'll find it here.
Moxi Skate Shop –
Embrace 4th Street's unique culture at one of the most unique shops on the row, Moxi Skate Shop!! Moxi Roller Skate Shop is a full service roller skate boutique in the heart of Retro Row. Roller Derby is alive and well in Long Beach & this is where you go to find out more. 4th Street is where the vibrancy and creative spirit of Long Beach lives! The district is home to an exciting group of 40+ independent merchants. Kitchy, hip, and always hospitable; 4th Street features vintage & contemporary clothing, furniture & accessories, art, antiques & collectibles, books, roller skates & skate boards as well as a locally owned restaurants, coffee shops and wine bars.
MADE by Millworks –
MADE is an incubator to foster the kinds of local establishments that make Long Beach truly unique. You'll find a gift shop & art gallery that's passionate about supporting local artisans & artists. Try a local hot sauce or buy a handmade wallet. Several iconic Long Beach establishments got their start at MADE, a true testament to our talented community. For a real taste of Long Beach, include MADE in any itinerary to the city.
Romance Etc. Floral Design Studio & Gift Boutique –
It's all in the name! With over 35 years in business, sisters Deborah and Dawna Fay have managed to create and sustain the #1 gift boutique and floral design studio in Long Beach. Romance Etc. is a full service florist, specializing in Wedding & Special Event Floral Design. The gift boutique offers a wide array of unique gifts, including jewelry, home decor, men's accessories, books, one-of-a-kind pieces, locally made items, and wonderful bath & body products to suit every taste. Find the perfect gift for that someone special, even if that someone is you!
Shoreline Village –
Though not technically a boutique or shop, Shoreline Village is home to a uniquely Long Beach shopping experience. Shoreline Village is a waterfront shopping, dining and entertainment center that overlooks Long Beach's beautiful Rainbow Harbor. Stroll the multicolor shops for ice cream, trinkets and toys – there's something for the whole family. Shoreline also features an antique carousel, bike rentals to explore the Long Beach coastline, personal watercraft rentals, harbor cruises, and unique specialty shops. Stay for lunch or dinner along the waterfront at any of the local establishments for a truly Long Beach experience.