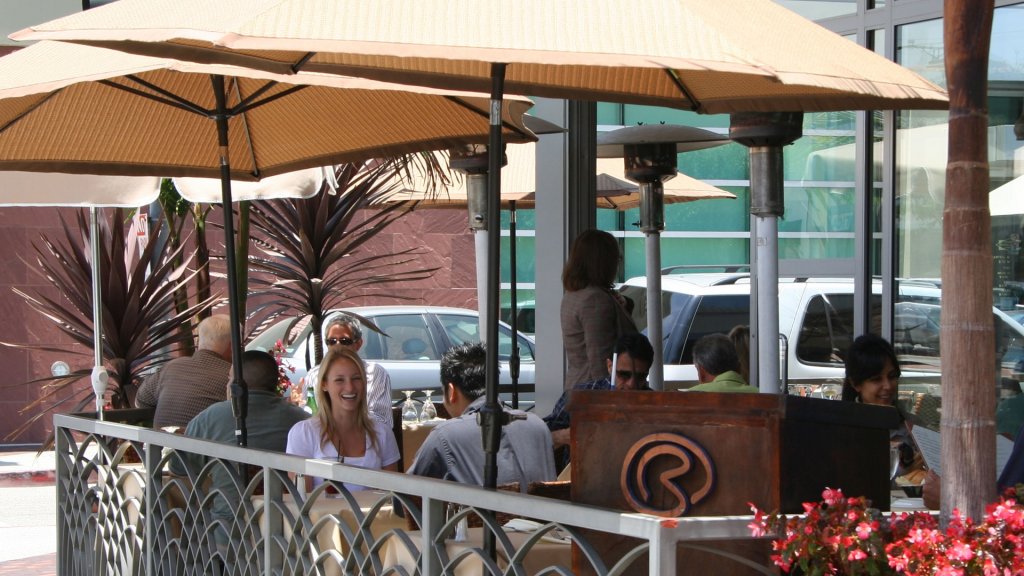 Restaurants & Dining
Foodies Welcome
Long Beach doesn't just sizzle, it really cooks. For food lovers, exploring the local flavors of the city is what a vacation is all about. Enjoy signature bites with an array local cuisine sure to satisfy every taste bud. With international flair, Long Beach offers sustainable seafood, Mediterranean, Italian, Japanese, Mexican and Indian cuisine to name a few. From distinct gastro pubs and bars, to sidewalk cafes, local neighborhood restaurants and romantic hideaways, Long Beach is a foodie's paradise.
Filter Directory Results
Results 13 - 24 of 110
California Pizza Kitchen - Pike - Rainbow
Learn More
Partner Details
On March 27, 1985, attorneys Rick Rosenfield and Larry Flax traded in the courtroom for the dining room. Having always wanted to get into the restaurant business, they pitched their legal pads to serve hearth-baked pizzas. They introduced flavors and tastes from around the world, from Thai to Jamaican Jerk...all on a pizza. All of our innovative pizzas are creatively designed on a delicious crust, and hearth-baked to perfection. CPK's strong brand awareness has been developed primarily through full service restaurants and through the expansion of our high quality fast-casual, CPK/ASAP concept. The CPK/ASAP restaurants are significantly smaller than our full service restaurants and offer a limited selection of only the most popular pizzas, salads, sandwiches and appetizers. In addition, Rick Rosenfield and Larry Flax opened the newest concept in the CPK family, LA Food Show, in June 2003 in Manhattan Beach, Calif. California Pizza kitchen also has a strategic alliance with Kraft Pizza Company, a subsidiary of Kraft Foods Inc., to distribute a line of premium frozen pizzas through supermarkets and other retail outlets.
61 South Pine Avenue
Long Beach, CA 90802
Contact Name: Jack Bunditwong
Contact Title: General Manager
Phone: (562) 628-1800
Fax: (562) 628-1804

Website: www.cpk.com
Email: r_rbw@cpk.com

Chelsea Chowder House & Bar At The Queen Mary
Learn More
Partner Details
Winner of The Southern California Restaurant Writers 2004-2005 Gold Award for Seafood Cuisine. Fresh seafood specialties are the Chelsea's hallmark. Savor harbor views, impeccable service and award-winning cuisine.
Chianina Steakhouse
Learn More
Partner Details
Chianina is an American Steakhouse with a philosophy rooted in Italian tradition, drawing its inspiration from the eponymous breed of cattle. Here, you can choose from a wide range of cuts, including Porterhouse, New York Strip, and Ribeye from certified Piedmontese beef. And whenever possible, we follow a farm-to-table philosophy by purchasing locally sourced ingredients. We partner with a prominent Chianina rancher that shares the same standards we do and raise the grass-fed cattle organically at a Utah ranch. This ancient cattle breed has been raised in Central Italy—for food and for work—dating back some 2200 years. Leaner and more muscular than most other breeds, the Chianina's meat is renowned for its high quality and superior nutritional value. Like our menu, our decor juxtaposes the new with the old. The colors and hues are informed by the varying coloration of the Chianina breed (shades of grey and white), then refined with the warmth and richness of the traditional steakhouse. Everything we do is motivated by a single goal: To provide a dining experience that exceeds your every expectation.
5716 East 2nd Street
Long Beach, CA 90803
Contact Name: Massimo Aronne
Contact Title: Partner
Phone: (562) 434-2333

Website: www.chianina.com
Claire's At The Museum
Learn More
Partner Details
The Long Beach Museum of Art is located on a magnificent bluff-top site overlooking the Long Beach Harbor, Catalina Island, the Queen Mary and the Pacific Ocean. The campus includes the historic Elizabeth Milbank Anderson house and carriage house (built in 1912), oceanfront gardens, and a beautiful new pavilion with two floors of expansive gallery space for changing exhibitions and the museum store. The historic buildings are home to administrative offices, and the picturesque, ocean view restaurant "Claire's at the Museum" which surrounds the dramatic water sculpture by Claire Falkenstein. In addition to changing exhibitions, the Museum offers extensive educational programs for children and adults, musical programs, festivals, and other special events. Visit the Museum Store - Filled with interesting gifts, books, jewelry exhibition catalogs and treasures, the Museum Store is truly unique. Located in the beautiful gallery of the museum. Claire's Hours: Thursday 11:00am-8:00pm, Friday 11:00am-3:00pm, Saturday and Sunday 8:00am-3:00pm. Venue available during closed hours for private events.
2300 East Ocean
Long Beach, CA 90803
Contact Title: Director of Food & Beverage & Ops
Phone: (562) 439-2119 Ext: 241

Website: www.lbma.org
Email: sarajevava@lbma.org

Corner Bakery Cafe
Learn More
Partner Details
Corner Bakery Cafe is a fast casual restaurant serving breakfast, lunch and dinner. The made-to-order food is delivered fresh to your table with a price that is comfortably affordable. Corner Bakery Cafe is recognized for its catering experience delivering signature, made-to-order breakfasts, lunches and dinners for any occasion. Corner Bakery Cafe offers a casual atmosphere – a place to relax and gather with family and friends featuring innovative, seasonal menu options ranging from hot breakfasts and signature panini to handcrafted salads, sandwiches and bakery-fresh sweets. Corner Bakery Cafe delivers a premier bakery cafe experience in the hearts of neighborhoods everywhere.
Crème de la Crêpe Café
Learn More
Partner Details
Long Beach's favorite French café, with cozy seating available inside or enjoy the weather on the outdoor patio. Located in the downtown Art District, a short walking distance from the Convention Center and the downtown hotels, locals and conventioneers gather for memorable breakfasts, brunches, and lunches of amazing omelets, eggs benedicts, sweet and savory (gluten free) crepes, quiches, fondues, panini, baguette sandwiches, a variety of salads, soups, etc. At night the café becomes a fine dining experience within a casual atmosphere, with live jazz Friday evenings. Steaks, chicken, pasta and seafood dishes paired with the sauces that make French cooking famous are served, as well as traditional favorites like beef bourguignon, escargot, tartars, and pates. Come for just a glass of fine French wine or an extraordinary dining experience. Open every day from 8:00 AM to 10:00 PM, you'll find yourself in a slice of Paris nestled in the midst of Long Beach.
Crepe Crafters
Learn More
Partner Details
We invite you to taste our delicious crepes, made from scratch, using the highest quality ingredients and lots of love and passion. We created completely new and original crepe and panini recipes you can also enjoy.
Cuppa Cuppa
Learn More
Partner Details
Cuppa Cuppa is the latest coffee bar addition to the Long Beach area' nestled in the historical landmark building in downtown Long Beach. Our company is dedicated to finding the highest quality and most responsibly grown beans available. Cuppa Cuppa is a contemporary' relaxed café bar founded with the grounding belief that better beans make for better coffee. We are absolutely certain that our customers will be able to taste the difference in our third wave coffee. We welcome you to join in our modern' rustic café or relax on the outside patio and enjoy a well–deserved coffee break. Get ready to unwind with the finest brew in town!
District Wine
Learn More
Partner Details
District Wine is a full-service wine tasting room, lounge and retail shop specializing in small production boutique wines and imported beer. Small appetizers and handmade flatbreads are offered to compliment our wine and beer list. Our motto is to provide an interactive and relaxing environment where the connoisseur and wine novice alike can come to learn, taste and enjoy wine in the East Village Arts District. Wine tastings daily. Happy Hour Monday - Saturday. Live music, fun and a sense of community. NOW OPEN FOR LUNCH- TUESDAY - FRIDAY 11:30 - 4:00PM Follow us at www.facebook.com/districtwine- TO GO ORDERS WELCOME- 562-612-0411
Dog Haus Biergarten Long Beach
Learn More
Partner Details
Dog Haus is Southern California's craft casual hot dog concept founded by partners Hagop Giragossian, Quasim Riaz and André Vener with a passion for creativity, quality and commitment to community. The first Dog Haus opened in Pasadena in 2010 offering signature 100% all-beef skinless Haus Dogs, Haus Sausages and 100% natural Black Angus beef burgers on grilled King's Hawaiian Rolls. Open for lunch and dinner daily, guests can choose from signature Haus creations or customize their own from a selection of more than 40+ quality toppings.
Doly's Delectables
Learn More
Partner Details
Nestled near the heart of down town Long Beach, DoLy's Delectables offers its loyal patrons the lingering sweetness of that last pleasant dream before rising for a new day. The little café follows in the French tradition and beyond and it is rooted in the love and trust of the establishment's co-owners, Julie Do and Son Ly.
Domenico's Italian Restaurant
Learn More
Partner Details
As Long Beach's oldest restaurant, Domenico's strives to maintain the original recipes that have made it an institution. The ground pepperoni and ground sausage pizzas are fan favorites, and the quaint and friendly atmosphere make this a staple for anyone visiting the Long Beach area.